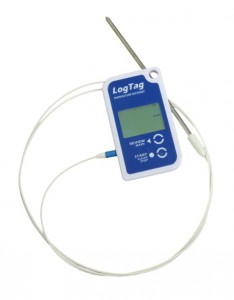 LogTag® products are designed to meet the growing demand for cost effective electronic environmental recording solutions.
Combining state of the art technology, innovative design and high volume manufacturing techniques, the LogTag® system provides the most cost effective, high performance environmental data logging system available for today's market.
LogTag® products are used in a huge number of different applications including widespread use in food and pharmaceutical temperature and/or humidity monitoring for both storage and shipping. Our products are also used for education and research with products holding approvals with many world recognised organisations such as the World Health Organisation.
Glycol Bottle For Logtag External Probe (J-Type)


Notice: Function id was called incorrectly. Product properties should not be accessed directly. Backtrace: require('wp-blog-header.php'), require_once('wp-includes/template-loader.php'), include('/themes/discoverpro/page.php'), the_content, apply_filters('the_content'), WP_Hook->apply_filters, do_shortcode, preg_replace_callback, do_shortcode_tag, WC_Shortcodes::product_category, WC_Shortcode_Products->get_content, WC_Shortcode_Products->product_loop, wc_get_template_part, load_template, require('/plugins/woocommerce/templates/content-product.php'), do_action('woocommerce_after_shop_loop_item_title'), WP_Hook->do_action, WP_Hook->apply_filters, woocommerce_template_loop_price, wc_get_template, include('/plugins/woocommerce/templates/loop/price.php'), WC_Product->get_price_html, apply_filters('woocommerce_get_price_html'), WP_Hook->apply_filters, WC_Catalog_Restrictions_Filters->on_price_html, WC_Catalog_Restrictions_Filters->user_can_view_price, WC_Abstract_Legacy_Product->__get, wc_doing_it_wrong Pl in /home/rollexmo/public_html/wp-includes/functions.php on line 5905

Notice: Function id was called incorrectly. Product properties should not be accessed directly. Backtrace: require('wp-blog-header.php'), require_once('wp-includes/template-loader.php'), include('/themes/discoverpro/page.php'), the_content, apply_filters('the_content'), WP_Hook->apply_filters, do_shortcode, preg_replace_callback, do_shortcode_tag, WC_Shortcodes::product_category, WC_Shortcode_Products->get_content, WC_Shortcode_Products->product_loop, wc_get_template_part, load_template, require('/plugins/woocommerce/templates/content-product.php'), do_action('woocommerce_after_shop_loop_item_title'), WP_Hook->do_action, WP_Hook->apply_filters, woocommerce_template_loop_price, wc_get_template, include('/plugins/woocommerce/templates/loop/price.php'), WC_Product->get_price_html, apply_filters('woocommerce_get_price_html'), WP_Hook->apply_filters, WC_Catalog_Restrictions_Filters->on_price_html, WC_Catalog_Restrictions_Filters->user_can_view_price, WC_Abstract_Legacy_Product->__get, wc_doing_it_wrong Pl in /home/rollexmo/public_html/wp-includes/functions.php on line 5905

Notice: Function id was called incorrectly. Product properties should not be accessed directly. Backtrace: require('wp-blog-header.php'), require_once('wp-includes/template-loader.php'), include('/themes/discoverpro/page.php'), the_content, apply_filters('the_content'), WP_Hook->apply_filters, do_shortcode, preg_replace_callback, do_shortcode_tag, WC_Shortcodes::product_category, WC_Shortcode_Products->get_content, WC_Shortcode_Products->product_loop, wc_get_template_part, load_template, require('/plugins/woocommerce/templates/content-product.php'), do_action('woocommerce_after_shop_loop_item'), WP_Hook->do_action, WP_Hook->apply_filters, woocommerce_template_loop_add_to_cart, wc_get_template, include('/plugins/woocommerce/templates/loop/add-to-cart.php'), apply_filters('woocommerce_loop_add_to_cart_link'), WP_Hook->apply_filters, WC_Catalog_Restrictions_Filters->on_loop_add_to_cart_link, WC_Catalog_Restrictions_Filters->user_can_purchase, WC_Catalog_Restrictions_Filters->user_can_view_price, WC_Abst in /home/rollexmo/public_html/wp-includes/functions.php on line 5905

Notice: Function id was called incorrectly. Product properties should not be accessed directly. Backtrace: require('wp-blog-header.php'), require_once('wp-includes/template-loader.php'), include('/themes/discoverpro/page.php'), the_content, apply_filters('the_content'), WP_Hook->apply_filters, do_shortcode, preg_replace_callback, do_shortcode_tag, WC_Shortcodes::product_category, WC_Shortcode_Products->get_content, WC_Shortcode_Products->product_loop, wc_get_template_part, load_template, require('/plugins/woocommerce/templates/content-product.php'), do_action('woocommerce_after_shop_loop_item'), WP_Hook->do_action, WP_Hook->apply_filters, woocommerce_template_loop_add_to_cart, wc_get_template, include('/plugins/woocommerce/templates/loop/add-to-cart.php'), apply_filters('woocommerce_loop_add_to_cart_link'), WP_Hook->apply_filters, WC_Catalog_Restrictions_Filters->on_loop_add_to_cart_link, WC_Catalog_Restrictions_Filters->user_can_purchase, WC_Catalog_Restrictions_Filters->user_can_view_price, WC_Abst in /home/rollexmo/public_html/wp-includes/functions.php on line 5905