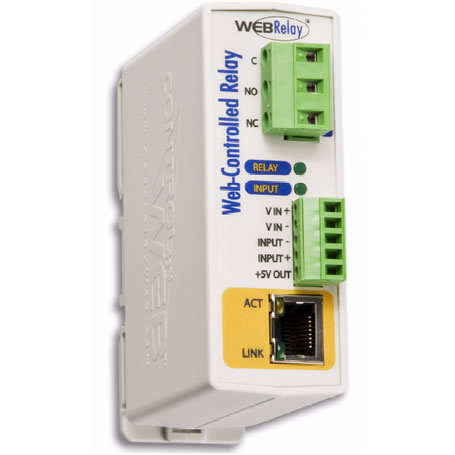 ControlByWeb products are high-end components for remote monitoring and control applications. Companies, organizations, and individuals use our products to monitor and control many different types of equipment and systems in real-time from any computer using a web browser. Our products can be used as stand-alone devices in simple applications, offering a complete solution requiring no additional equipment. They can also be used as building-blocks in large systems.
How They Work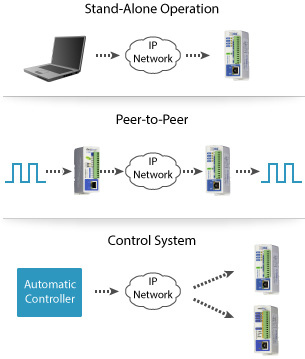 Each ControlByWeb product has a small combination of I/O (inputs & outputs) and a built-in web server. Sensors, switches, voltages, etc., can be connected to the inputs for monitoring various parameters, conditions, or events of interest such as temperatures, voltages, or alarms. Outputs (usually relays) can be used to control just about anything, including lights, bells, motors, computers, heating systems, etc. Because our products have a built-in web server, users can view input parameters and control relay outputs using a simple web page from just about any web browser. In addition, our products support multiple protocols so they can communicate directly with computers, PLCs, and automation controllers in more advanced control systems.
Example Applications
ControlByWeb products are used to monitor temperature, humidity, power, tank levels, pressure, the status of doors, windows, production machines, and much more. Our products are also used to control computers (remote reboot), communications equipment, lights, bells, motors, pumps, HVAC units, signs, gates, and much more.
Why ControlByWeb
ControlByWeb products are designed to be extremely robust and reliable. Although they are affordably priced, no shortcuts were taken in their design, and no compromises were made in the parts used. Some would say that our products are "over engineered" because there are many internal parts that could be replaced with less expensive versions or even removed to save money, but we believe it's more important to build them right than to build them cheap. Our products are carefully made in the USA at our own facilities and each product is inspected many times at different levels of production and tested before it is shipped. Our firmware is tested both manually and automatically for long time periods to verify its integrity before it is released. Our staff is very knowledgeable and we are interested in doing whatever we can to make sure all projects that use our products are successful. These are just a few reasons to choose ControlByWeb.
---
Components
X-420 12V Version


Notice: Function id was called incorrectly. Product properties should not be accessed directly. Backtrace: require('wp-blog-header.php'), require_once('wp-includes/template-loader.php'), include('/themes/discoverpro/page.php'), the_content, apply_filters('the_content'), WP_Hook->apply_filters, do_shortcode, preg_replace_callback, do_shortcode_tag, WC_Shortcodes::product_category, WC_Shortcode_Products->get_content, WC_Shortcode_Products->product_loop, wc_get_template_part, load_template, require('/plugins/woocommerce/templates/content-product.php'), do_action('woocommerce_after_shop_loop_item_title'), WP_Hook->do_action, WP_Hook->apply_filters, woocommerce_template_loop_price, wc_get_template, include('/plugins/woocommerce/templates/loop/price.php'), WC_Product->get_price_html, apply_filters('woocommerce_get_price_html'), WP_Hook->apply_filters, WC_Catalog_Restrictions_Filters->on_price_html, WC_Catalog_Restrictions_Filters->user_can_view_price, WC_Abstract_Legacy_Product->__get, wc_doing_it_wrong Pl in /home/rollexmo/public_html/wp-includes/functions.php on line 5905

Notice: Function id was called incorrectly. Product properties should not be accessed directly. Backtrace: require('wp-blog-header.php'), require_once('wp-includes/template-loader.php'), include('/themes/discoverpro/page.php'), the_content, apply_filters('the_content'), WP_Hook->apply_filters, do_shortcode, preg_replace_callback, do_shortcode_tag, WC_Shortcodes::product_category, WC_Shortcode_Products->get_content, WC_Shortcode_Products->product_loop, wc_get_template_part, load_template, require('/plugins/woocommerce/templates/content-product.php'), do_action('woocommerce_after_shop_loop_item'), WP_Hook->do_action, WP_Hook->apply_filters, woocommerce_template_loop_add_to_cart, wc_get_template, include('/plugins/woocommerce/templates/loop/add-to-cart.php'), apply_filters('woocommerce_loop_add_to_cart_link'), WP_Hook->apply_filters, WC_Catalog_Restrictions_Filters->on_loop_add_to_cart_link, WC_Catalog_Restrictions_Filters->user_can_purchase, WC_Catalog_Restrictions_Filters->user_can_view_price, WC_Abst in /home/rollexmo/public_html/wp-includes/functions.php on line 5905

Notice: Function id was called incorrectly. Product properties should not be accessed directly. Backtrace: require('wp-blog-header.php'), require_once('wp-includes/template-loader.php'), include('/themes/discoverpro/page.php'), the_content, apply_filters('the_content'), WP_Hook->apply_filters, do_shortcode, preg_replace_callback, do_shortcode_tag, WC_Shortcodes::product_category, WC_Shortcode_Products->get_content, WC_Shortcode_Products->product_loop, wc_get_template_part, load_template, require('/plugins/woocommerce/templates/content-product.php'), do_action('woocommerce_after_shop_loop_item'), WP_Hook->do_action, WP_Hook->apply_filters, woocommerce_template_loop_add_to_cart, wc_get_template, include('/plugins/woocommerce/templates/loop/add-to-cart.php'), apply_filters('woocommerce_loop_add_to_cart_link'), WP_Hook->apply_filters, WC_Catalog_Restrictions_Filters->on_loop_add_to_cart_link, WC_Catalog_Restrictions_Filters->user_can_purchase, WC_Abstract_Legacy_Product->__get, wc_doing_it_wrong Please s in /home/rollexmo/public_html/wp-includes/functions.php on line 5905
Read more
Accessories
Temperature/Humidity Sensor (Probe)


Notice: Function id was called incorrectly. Product properties should not be accessed directly. Backtrace: require('wp-blog-header.php'), require_once('wp-includes/template-loader.php'), include('/themes/discoverpro/page.php'), the_content, apply_filters('the_content'), WP_Hook->apply_filters, do_shortcode, preg_replace_callback, do_shortcode_tag, WC_Shortcodes::product_category, WC_Shortcode_Products->get_content, WC_Shortcode_Products->product_loop, wc_get_template_part, load_template, require('/plugins/woocommerce/templates/content-product.php'), do_action('woocommerce_after_shop_loop_item_title'), WP_Hook->do_action, WP_Hook->apply_filters, woocommerce_template_loop_price, wc_get_template, include('/plugins/woocommerce/templates/loop/price.php'), WC_Product->get_price_html, apply_filters('woocommerce_get_price_html'), WP_Hook->apply_filters, WC_Catalog_Restrictions_Filters->on_price_html, WC_Catalog_Restrictions_Filters->user_can_view_price, WC_Abstract_Legacy_Product->__get, wc_doing_it_wrong Pl in /home/rollexmo/public_html/wp-includes/functions.php on line 5905

Notice: Function id was called incorrectly. Product properties should not be accessed directly. Backtrace: require('wp-blog-header.php'), require_once('wp-includes/template-loader.php'), include('/themes/discoverpro/page.php'), the_content, apply_filters('the_content'), WP_Hook->apply_filters, do_shortcode, preg_replace_callback, do_shortcode_tag, WC_Shortcodes::product_category, WC_Shortcode_Products->get_content, WC_Shortcode_Products->product_loop, wc_get_template_part, load_template, require('/plugins/woocommerce/templates/content-product.php'), do_action('woocommerce_after_shop_loop_item'), WP_Hook->do_action, WP_Hook->apply_filters, woocommerce_template_loop_add_to_cart, wc_get_template, include('/plugins/woocommerce/templates/loop/add-to-cart.php'), apply_filters('woocommerce_loop_add_to_cart_link'), WP_Hook->apply_filters, WC_Catalog_Restrictions_Filters->on_loop_add_to_cart_link, WC_Catalog_Restrictions_Filters->user_can_purchase, WC_Catalog_Restrictions_Filters->user_can_view_price, WC_Abst in /home/rollexmo/public_html/wp-includes/functions.php on line 5905

Notice: Function id was called incorrectly. Product properties should not be accessed directly. Backtrace: require('wp-blog-header.php'), require_once('wp-includes/template-loader.php'), include('/themes/discoverpro/page.php'), the_content, apply_filters('the_content'), WP_Hook->apply_filters, do_shortcode, preg_replace_callback, do_shortcode_tag, WC_Shortcodes::product_category, WC_Shortcode_Products->get_content, WC_Shortcode_Products->product_loop, wc_get_template_part, load_template, require('/plugins/woocommerce/templates/content-product.php'), do_action('woocommerce_after_shop_loop_item'), WP_Hook->do_action, WP_Hook->apply_filters, woocommerce_template_loop_add_to_cart, wc_get_template, include('/plugins/woocommerce/templates/loop/add-to-cart.php'), apply_filters('woocommerce_loop_add_to_cart_link'), WP_Hook->apply_filters, WC_Catalog_Restrictions_Filters->on_loop_add_to_cart_link, WC_Catalog_Restrictions_Filters->user_can_purchase, WC_Abstract_Legacy_Product->__get, wc_doing_it_wrong Please s in /home/rollexmo/public_html/wp-includes/functions.php on line 5905
Read more

Thermocouple to 1-Wire Adapter


Notice: Function id was called incorrectly. Product properties should not be accessed directly. Backtrace: require('wp-blog-header.php'), require_once('wp-includes/template-loader.php'), include('/themes/discoverpro/page.php'), the_content, apply_filters('the_content'), WP_Hook->apply_filters, do_shortcode, preg_replace_callback, do_shortcode_tag, WC_Shortcodes::product_category, WC_Shortcode_Products->get_content, WC_Shortcode_Products->product_loop, wc_get_template_part, load_template, require('/plugins/woocommerce/templates/content-product.php'), do_action('woocommerce_after_shop_loop_item_title'), WP_Hook->do_action, WP_Hook->apply_filters, woocommerce_template_loop_price, wc_get_template, include('/plugins/woocommerce/templates/loop/price.php'), WC_Product->get_price_html, apply_filters('woocommerce_get_price_html'), WP_Hook->apply_filters, WC_Catalog_Restrictions_Filters->on_price_html, WC_Catalog_Restrictions_Filters->user_can_view_price, WC_Abstract_Legacy_Product->__get, wc_doing_it_wrong Pl in /home/rollexmo/public_html/wp-includes/functions.php on line 5905

Notice: Function id was called incorrectly. Product properties should not be accessed directly. Backtrace: require('wp-blog-header.php'), require_once('wp-includes/template-loader.php'), include('/themes/discoverpro/page.php'), the_content, apply_filters('the_content'), WP_Hook->apply_filters, do_shortcode, preg_replace_callback, do_shortcode_tag, WC_Shortcodes::product_category, WC_Shortcode_Products->get_content, WC_Shortcode_Products->product_loop, wc_get_template_part, load_template, require('/plugins/woocommerce/templates/content-product.php'), do_action('woocommerce_after_shop_loop_item'), WP_Hook->do_action, WP_Hook->apply_filters, woocommerce_template_loop_add_to_cart, wc_get_template, include('/plugins/woocommerce/templates/loop/add-to-cart.php'), apply_filters('woocommerce_loop_add_to_cart_link'), WP_Hook->apply_filters, WC_Catalog_Restrictions_Filters->on_loop_add_to_cart_link, WC_Catalog_Restrictions_Filters->user_can_purchase, WC_Catalog_Restrictions_Filters->user_can_view_price, WC_Abst in /home/rollexmo/public_html/wp-includes/functions.php on line 5905

Notice: Function id was called incorrectly. Product properties should not be accessed directly. Backtrace: require('wp-blog-header.php'), require_once('wp-includes/template-loader.php'), include('/themes/discoverpro/page.php'), the_content, apply_filters('the_content'), WP_Hook->apply_filters, do_shortcode, preg_replace_callback, do_shortcode_tag, WC_Shortcodes::product_category, WC_Shortcode_Products->get_content, WC_Shortcode_Products->product_loop, wc_get_template_part, load_template, require('/plugins/woocommerce/templates/content-product.php'), do_action('woocommerce_after_shop_loop_item'), WP_Hook->do_action, WP_Hook->apply_filters, woocommerce_template_loop_add_to_cart, wc_get_template, include('/plugins/woocommerce/templates/loop/add-to-cart.php'), apply_filters('woocommerce_loop_add_to_cart_link'), WP_Hook->apply_filters, WC_Catalog_Restrictions_Filters->on_loop_add_to_cart_link, WC_Catalog_Restrictions_Filters->user_can_purchase, WC_Abstract_Legacy_Product->__get, wc_doing_it_wrong Please s in /home/rollexmo/public_html/wp-includes/functions.php on line 5905
Read more

X-DTS-S12 Temperature Sensor


Notice: Function id was called incorrectly. Product properties should not be accessed directly. Backtrace: require('wp-blog-header.php'), require_once('wp-includes/template-loader.php'), include('/themes/discoverpro/page.php'), the_content, apply_filters('the_content'), WP_Hook->apply_filters, do_shortcode, preg_replace_callback, do_shortcode_tag, WC_Shortcodes::product_category, WC_Shortcode_Products->get_content, WC_Shortcode_Products->product_loop, wc_get_template_part, load_template, require('/plugins/woocommerce/templates/content-product.php'), do_action('woocommerce_after_shop_loop_item_title'), WP_Hook->do_action, WP_Hook->apply_filters, woocommerce_template_loop_price, wc_get_template, include('/plugins/woocommerce/templates/loop/price.php'), WC_Product->get_price_html, apply_filters('woocommerce_get_price_html'), WP_Hook->apply_filters, WC_Catalog_Restrictions_Filters->on_price_html, WC_Catalog_Restrictions_Filters->user_can_view_price, WC_Abstract_Legacy_Product->__get, wc_doing_it_wrong Pl in /home/rollexmo/public_html/wp-includes/functions.php on line 5905

Notice: Function id was called incorrectly. Product properties should not be accessed directly. Backtrace: require('wp-blog-header.php'), require_once('wp-includes/template-loader.php'), include('/themes/discoverpro/page.php'), the_content, apply_filters('the_content'), WP_Hook->apply_filters, do_shortcode, preg_replace_callback, do_shortcode_tag, WC_Shortcodes::product_category, WC_Shortcode_Products->get_content, WC_Shortcode_Products->product_loop, wc_get_template_part, load_template, require('/plugins/woocommerce/templates/content-product.php'), do_action('woocommerce_after_shop_loop_item'), WP_Hook->do_action, WP_Hook->apply_filters, woocommerce_template_loop_add_to_cart, wc_get_template, include('/plugins/woocommerce/templates/loop/add-to-cart.php'), apply_filters('woocommerce_loop_add_to_cart_link'), WP_Hook->apply_filters, WC_Catalog_Restrictions_Filters->on_loop_add_to_cart_link, WC_Catalog_Restrictions_Filters->user_can_purchase, WC_Catalog_Restrictions_Filters->user_can_view_price, WC_Abst in /home/rollexmo/public_html/wp-includes/functions.php on line 5905

Notice: Function id was called incorrectly. Product properties should not be accessed directly. Backtrace: require('wp-blog-header.php'), require_once('wp-includes/template-loader.php'), include('/themes/discoverpro/page.php'), the_content, apply_filters('the_content'), WP_Hook->apply_filters, do_shortcode, preg_replace_callback, do_shortcode_tag, WC_Shortcodes::product_category, WC_Shortcode_Products->get_content, WC_Shortcode_Products->product_loop, wc_get_template_part, load_template, require('/plugins/woocommerce/templates/content-product.php'), do_action('woocommerce_after_shop_loop_item'), WP_Hook->do_action, WP_Hook->apply_filters, woocommerce_template_loop_add_to_cart, wc_get_template, include('/plugins/woocommerce/templates/loop/add-to-cart.php'), apply_filters('woocommerce_loop_add_to_cart_link'), WP_Hook->apply_filters, WC_Catalog_Restrictions_Filters->on_loop_add_to_cart_link, WC_Catalog_Restrictions_Filters->user_can_purchase, WC_Abstract_Legacy_Product->__get, wc_doing_it_wrong Please s in /home/rollexmo/public_html/wp-includes/functions.php on line 5905
Read more

X-DTS-S3C Temperature Sensor


Notice: Function id was called incorrectly. Product properties should not be accessed directly. Backtrace: require('wp-blog-header.php'), require_once('wp-includes/template-loader.php'), include('/themes/discoverpro/page.php'), the_content, apply_filters('the_content'), WP_Hook->apply_filters, do_shortcode, preg_replace_callback, do_shortcode_tag, WC_Shortcodes::product_category, WC_Shortcode_Products->get_content, WC_Shortcode_Products->product_loop, wc_get_template_part, load_template, require('/plugins/woocommerce/templates/content-product.php'), do_action('woocommerce_after_shop_loop_item_title'), WP_Hook->do_action, WP_Hook->apply_filters, woocommerce_template_loop_price, wc_get_template, include('/plugins/woocommerce/templates/loop/price.php'), WC_Product->get_price_html, apply_filters('woocommerce_get_price_html'), WP_Hook->apply_filters, WC_Catalog_Restrictions_Filters->on_price_html, WC_Catalog_Restrictions_Filters->user_can_view_price, WC_Abstract_Legacy_Product->__get, wc_doing_it_wrong Pl in /home/rollexmo/public_html/wp-includes/functions.php on line 5905

Notice: Function id was called incorrectly. Product properties should not be accessed directly. Backtrace: require('wp-blog-header.php'), require_once('wp-includes/template-loader.php'), include('/themes/discoverpro/page.php'), the_content, apply_filters('the_content'), WP_Hook->apply_filters, do_shortcode, preg_replace_callback, do_shortcode_tag, WC_Shortcodes::product_category, WC_Shortcode_Products->get_content, WC_Shortcode_Products->product_loop, wc_get_template_part, load_template, require('/plugins/woocommerce/templates/content-product.php'), do_action('woocommerce_after_shop_loop_item'), WP_Hook->do_action, WP_Hook->apply_filters, woocommerce_template_loop_add_to_cart, wc_get_template, include('/plugins/woocommerce/templates/loop/add-to-cart.php'), apply_filters('woocommerce_loop_add_to_cart_link'), WP_Hook->apply_filters, WC_Catalog_Restrictions_Filters->on_loop_add_to_cart_link, WC_Catalog_Restrictions_Filters->user_can_purchase, WC_Catalog_Restrictions_Filters->user_can_view_price, WC_Abst in /home/rollexmo/public_html/wp-includes/functions.php on line 5905

Notice: Function id was called incorrectly. Product properties should not be accessed directly. Backtrace: require('wp-blog-header.php'), require_once('wp-includes/template-loader.php'), include('/themes/discoverpro/page.php'), the_content, apply_filters('the_content'), WP_Hook->apply_filters, do_shortcode, preg_replace_callback, do_shortcode_tag, WC_Shortcodes::product_category, WC_Shortcode_Products->get_content, WC_Shortcode_Products->product_loop, wc_get_template_part, load_template, require('/plugins/woocommerce/templates/content-product.php'), do_action('woocommerce_after_shop_loop_item'), WP_Hook->do_action, WP_Hook->apply_filters, woocommerce_template_loop_add_to_cart, wc_get_template, include('/plugins/woocommerce/templates/loop/add-to-cart.php'), apply_filters('woocommerce_loop_add_to_cart_link'), WP_Hook->apply_filters, WC_Catalog_Restrictions_Filters->on_loop_add_to_cart_link, WC_Catalog_Restrictions_Filters->user_can_purchase, WC_Abstract_Legacy_Product->__get, wc_doing_it_wrong Please s in /home/rollexmo/public_html/wp-includes/functions.php on line 5905
Read more

Power Supply. PS12VW1.5-B


Notice: Function id was called incorrectly. Product properties should not be accessed directly. Backtrace: require('wp-blog-header.php'), require_once('wp-includes/template-loader.php'), include('/themes/discoverpro/page.php'), the_content, apply_filters('the_content'), WP_Hook->apply_filters, do_shortcode, preg_replace_callback, do_shortcode_tag, WC_Shortcodes::product_category, WC_Shortcode_Products->get_content, WC_Shortcode_Products->product_loop, wc_get_template_part, load_template, require('/plugins/woocommerce/templates/content-product.php'), do_action('woocommerce_after_shop_loop_item_title'), WP_Hook->do_action, WP_Hook->apply_filters, woocommerce_template_loop_price, wc_get_template, include('/plugins/woocommerce/templates/loop/price.php'), WC_Product->get_price_html, apply_filters('woocommerce_get_price_html'), WP_Hook->apply_filters, WC_Catalog_Restrictions_Filters->on_price_html, WC_Catalog_Restrictions_Filters->user_can_view_price, WC_Abstract_Legacy_Product->__get, wc_doing_it_wrong Pl in /home/rollexmo/public_html/wp-includes/functions.php on line 5905

Notice: Function id was called incorrectly. Product properties should not be accessed directly. Backtrace: require('wp-blog-header.php'), require_once('wp-includes/template-loader.php'), include('/themes/discoverpro/page.php'), the_content, apply_filters('the_content'), WP_Hook->apply_filters, do_shortcode, preg_replace_callback, do_shortcode_tag, WC_Shortcodes::product_category, WC_Shortcode_Products->get_content, WC_Shortcode_Products->product_loop, wc_get_template_part, load_template, require('/plugins/woocommerce/templates/content-product.php'), do_action('woocommerce_after_shop_loop_item'), WP_Hook->do_action, WP_Hook->apply_filters, woocommerce_template_loop_add_to_cart, wc_get_template, include('/plugins/woocommerce/templates/loop/add-to-cart.php'), apply_filters('woocommerce_loop_add_to_cart_link'), WP_Hook->apply_filters, WC_Catalog_Restrictions_Filters->on_loop_add_to_cart_link, WC_Catalog_Restrictions_Filters->user_can_purchase, WC_Catalog_Restrictions_Filters->user_can_view_price, WC_Abst in /home/rollexmo/public_html/wp-includes/functions.php on line 5905

Notice: Function id was called incorrectly. Product properties should not be accessed directly. Backtrace: require('wp-blog-header.php'), require_once('wp-includes/template-loader.php'), include('/themes/discoverpro/page.php'), the_content, apply_filters('the_content'), WP_Hook->apply_filters, do_shortcode, preg_replace_callback, do_shortcode_tag, WC_Shortcodes::product_category, WC_Shortcode_Products->get_content, WC_Shortcode_Products->product_loop, wc_get_template_part, load_template, require('/plugins/woocommerce/templates/content-product.php'), do_action('woocommerce_after_shop_loop_item'), WP_Hook->do_action, WP_Hook->apply_filters, woocommerce_template_loop_add_to_cart, wc_get_template, include('/plugins/woocommerce/templates/loop/add-to-cart.php'), apply_filters('woocommerce_loop_add_to_cart_link'), WP_Hook->apply_filters, WC_Catalog_Restrictions_Filters->on_loop_add_to_cart_link, WC_Catalog_Restrictions_Filters->user_can_purchase, WC_Abstract_Legacy_Product->__get, wc_doing_it_wrong Please s in /home/rollexmo/public_html/wp-includes/functions.php on line 5905
Read more

Power Supply. PS5VW2-B


Notice: Function id was called incorrectly. Product properties should not be accessed directly. Backtrace: require('wp-blog-header.php'), require_once('wp-includes/template-loader.php'), include('/themes/discoverpro/page.php'), the_content, apply_filters('the_content'), WP_Hook->apply_filters, do_shortcode, preg_replace_callback, do_shortcode_tag, WC_Shortcodes::product_category, WC_Shortcode_Products->get_content, WC_Shortcode_Products->product_loop, wc_get_template_part, load_template, require('/plugins/woocommerce/templates/content-product.php'), do_action('woocommerce_after_shop_loop_item_title'), WP_Hook->do_action, WP_Hook->apply_filters, woocommerce_template_loop_price, wc_get_template, include('/plugins/woocommerce/templates/loop/price.php'), WC_Product->get_price_html, apply_filters('woocommerce_get_price_html'), WP_Hook->apply_filters, WC_Catalog_Restrictions_Filters->on_price_html, WC_Catalog_Restrictions_Filters->user_can_view_price, WC_Abstract_Legacy_Product->__get, wc_doing_it_wrong Pl in /home/rollexmo/public_html/wp-includes/functions.php on line 5905

Notice: Function id was called incorrectly. Product properties should not be accessed directly. Backtrace: require('wp-blog-header.php'), require_once('wp-includes/template-loader.php'), include('/themes/discoverpro/page.php'), the_content, apply_filters('the_content'), WP_Hook->apply_filters, do_shortcode, preg_replace_callback, do_shortcode_tag, WC_Shortcodes::product_category, WC_Shortcode_Products->get_content, WC_Shortcode_Products->product_loop, wc_get_template_part, load_template, require('/plugins/woocommerce/templates/content-product.php'), do_action('woocommerce_after_shop_loop_item'), WP_Hook->do_action, WP_Hook->apply_filters, woocommerce_template_loop_add_to_cart, wc_get_template, include('/plugins/woocommerce/templates/loop/add-to-cart.php'), apply_filters('woocommerce_loop_add_to_cart_link'), WP_Hook->apply_filters, WC_Catalog_Restrictions_Filters->on_loop_add_to_cart_link, WC_Catalog_Restrictions_Filters->user_can_purchase, WC_Catalog_Restrictions_Filters->user_can_view_price, WC_Abst in /home/rollexmo/public_html/wp-includes/functions.php on line 5905

Notice: Function id was called incorrectly. Product properties should not be accessed directly. Backtrace: require('wp-blog-header.php'), require_once('wp-includes/template-loader.php'), include('/themes/discoverpro/page.php'), the_content, apply_filters('the_content'), WP_Hook->apply_filters, do_shortcode, preg_replace_callback, do_shortcode_tag, WC_Shortcodes::product_category, WC_Shortcode_Products->get_content, WC_Shortcode_Products->product_loop, wc_get_template_part, load_template, require('/plugins/woocommerce/templates/content-product.php'), do_action('woocommerce_after_shop_loop_item'), WP_Hook->do_action, WP_Hook->apply_filters, woocommerce_template_loop_add_to_cart, wc_get_template, include('/plugins/woocommerce/templates/loop/add-to-cart.php'), apply_filters('woocommerce_loop_add_to_cart_link'), WP_Hook->apply_filters, WC_Catalog_Restrictions_Filters->on_loop_add_to_cart_link, WC_Catalog_Restrictions_Filters->user_can_purchase, WC_Abstract_Legacy_Product->__get, wc_doing_it_wrong Please s in /home/rollexmo/public_html/wp-includes/functions.php on line 5905
Read more

X-DTHS-WM Temperature & Humidity Sensor (wall mount)


Notice: Function id was called incorrectly. Product properties should not be accessed directly. Backtrace: require('wp-blog-header.php'), require_once('wp-includes/template-loader.php'), include('/themes/discoverpro/page.php'), the_content, apply_filters('the_content'), WP_Hook->apply_filters, do_shortcode, preg_replace_callback, do_shortcode_tag, WC_Shortcodes::product_category, WC_Shortcode_Products->get_content, WC_Shortcode_Products->product_loop, wc_get_template_part, load_template, require('/plugins/woocommerce/templates/content-product.php'), do_action('woocommerce_after_shop_loop_item_title'), WP_Hook->do_action, WP_Hook->apply_filters, woocommerce_template_loop_price, wc_get_template, include('/plugins/woocommerce/templates/loop/price.php'), WC_Product->get_price_html, apply_filters('woocommerce_get_price_html'), WP_Hook->apply_filters, WC_Catalog_Restrictions_Filters->on_price_html, WC_Catalog_Restrictions_Filters->user_can_view_price, WC_Abstract_Legacy_Product->__get, wc_doing_it_wrong Pl in /home/rollexmo/public_html/wp-includes/functions.php on line 5905

Notice: Function id was called incorrectly. Product properties should not be accessed directly. Backtrace: require('wp-blog-header.php'), require_once('wp-includes/template-loader.php'), include('/themes/discoverpro/page.php'), the_content, apply_filters('the_content'), WP_Hook->apply_filters, do_shortcode, preg_replace_callback, do_shortcode_tag, WC_Shortcodes::product_category, WC_Shortcode_Products->get_content, WC_Shortcode_Products->product_loop, wc_get_template_part, load_template, require('/plugins/woocommerce/templates/content-product.php'), do_action('woocommerce_after_shop_loop_item'), WP_Hook->do_action, WP_Hook->apply_filters, woocommerce_template_loop_add_to_cart, wc_get_template, include('/plugins/woocommerce/templates/loop/add-to-cart.php'), apply_filters('woocommerce_loop_add_to_cart_link'), WP_Hook->apply_filters, WC_Catalog_Restrictions_Filters->on_loop_add_to_cart_link, WC_Catalog_Restrictions_Filters->user_can_purchase, WC_Catalog_Restrictions_Filters->user_can_view_price, WC_Abst in /home/rollexmo/public_html/wp-includes/functions.php on line 5905

Notice: Function id was called incorrectly. Product properties should not be accessed directly. Backtrace: require('wp-blog-header.php'), require_once('wp-includes/template-loader.php'), include('/themes/discoverpro/page.php'), the_content, apply_filters('the_content'), WP_Hook->apply_filters, do_shortcode, preg_replace_callback, do_shortcode_tag, WC_Shortcodes::product_category, WC_Shortcode_Products->get_content, WC_Shortcode_Products->product_loop, wc_get_template_part, load_template, require('/plugins/woocommerce/templates/content-product.php'), do_action('woocommerce_after_shop_loop_item'), WP_Hook->do_action, WP_Hook->apply_filters, woocommerce_template_loop_add_to_cart, wc_get_template, include('/plugins/woocommerce/templates/loop/add-to-cart.php'), apply_filters('woocommerce_loop_add_to_cart_link'), WP_Hook->apply_filters, WC_Catalog_Restrictions_Filters->on_loop_add_to_cart_link, WC_Catalog_Restrictions_Filters->user_can_purchase, WC_Abstract_Legacy_Product->__get, wc_doing_it_wrong Please s in /home/rollexmo/public_html/wp-includes/functions.php on line 5905
Read more

X-DTS-WM Temperature Sensor (wall mount)


Notice: Function id was called incorrectly. Product properties should not be accessed directly. Backtrace: require('wp-blog-header.php'), require_once('wp-includes/template-loader.php'), include('/themes/discoverpro/page.php'), the_content, apply_filters('the_content'), WP_Hook->apply_filters, do_shortcode, preg_replace_callback, do_shortcode_tag, WC_Shortcodes::product_category, WC_Shortcode_Products->get_content, WC_Shortcode_Products->product_loop, wc_get_template_part, load_template, require('/plugins/woocommerce/templates/content-product.php'), do_action('woocommerce_after_shop_loop_item_title'), WP_Hook->do_action, WP_Hook->apply_filters, woocommerce_template_loop_price, wc_get_template, include('/plugins/woocommerce/templates/loop/price.php'), WC_Product->get_price_html, apply_filters('woocommerce_get_price_html'), WP_Hook->apply_filters, WC_Catalog_Restrictions_Filters->on_price_html, WC_Catalog_Restrictions_Filters->user_can_view_price, WC_Abstract_Legacy_Product->__get, wc_doing_it_wrong Pl in /home/rollexmo/public_html/wp-includes/functions.php on line 5905

Notice: Function id was called incorrectly. Product properties should not be accessed directly. Backtrace: require('wp-blog-header.php'), require_once('wp-includes/template-loader.php'), include('/themes/discoverpro/page.php'), the_content, apply_filters('the_content'), WP_Hook->apply_filters, do_shortcode, preg_replace_callback, do_shortcode_tag, WC_Shortcodes::product_category, WC_Shortcode_Products->get_content, WC_Shortcode_Products->product_loop, wc_get_template_part, load_template, require('/plugins/woocommerce/templates/content-product.php'), do_action('woocommerce_after_shop_loop_item'), WP_Hook->do_action, WP_Hook->apply_filters, woocommerce_template_loop_add_to_cart, wc_get_template, include('/plugins/woocommerce/templates/loop/add-to-cart.php'), apply_filters('woocommerce_loop_add_to_cart_link'), WP_Hook->apply_filters, WC_Catalog_Restrictions_Filters->on_loop_add_to_cart_link, WC_Catalog_Restrictions_Filters->user_can_purchase, WC_Catalog_Restrictions_Filters->user_can_view_price, WC_Abst in /home/rollexmo/public_html/wp-includes/functions.php on line 5905

Notice: Function id was called incorrectly. Product properties should not be accessed directly. Backtrace: require('wp-blog-header.php'), require_once('wp-includes/template-loader.php'), include('/themes/discoverpro/page.php'), the_content, apply_filters('the_content'), WP_Hook->apply_filters, do_shortcode, preg_replace_callback, do_shortcode_tag, WC_Shortcodes::product_category, WC_Shortcode_Products->get_content, WC_Shortcode_Products->product_loop, wc_get_template_part, load_template, require('/plugins/woocommerce/templates/content-product.php'), do_action('woocommerce_after_shop_loop_item'), WP_Hook->do_action, WP_Hook->apply_filters, woocommerce_template_loop_add_to_cart, wc_get_template, include('/plugins/woocommerce/templates/loop/add-to-cart.php'), apply_filters('woocommerce_loop_add_to_cart_link'), WP_Hook->apply_filters, WC_Catalog_Restrictions_Filters->on_loop_add_to_cart_link, WC_Catalog_Restrictions_Filters->user_can_purchase, WC_Abstract_Legacy_Product->__get, wc_doing_it_wrong Please s in /home/rollexmo/public_html/wp-includes/functions.php on line 5905
Read more